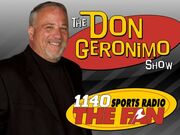 The Sacramento, CA midday show on 1140 The Fan (formerly KHTK), airing 12:00 - 3:00 Pacific Time. Formerly syndicated to two stations in Reno, both of which I'm too lazy to look up right now, and neither of which anybody gives a fuck about..
Cast and Crew
Edit
Don Geronimo - Host, Radio God
Phantom is the brother of Whitey Gleason... Maybe he can beg his brother for a gig on his bay area show !!
Show Segments
Edit
The Cavalcade - From 5:30 to 6:00, various wacky sound clips are played.
The Phantom News Hour - The last segment of the show, not necessarily an hour long. Phantom reads interesting news articles while Doni and the crew offer commentary and insight.
Caller 100 - If you are fortunate enough to be the hundredth caller to end the show, you can win fabulous Jew Gold prizes!
Other personalities
Edit
No radio show is complete without regular guests, callers, or whatnot.
Guests/Friends-of-the-Show
Edit
Dennis Murphy
Marcus Allen - This is the stage name of Mark S. Allen. He watches movies and gets to hang out with hot TV chicks.
Frank Caliendo
Abe Vigoda - a call is customarily placed to him following a celebrity death.  He likes to drink coffee and bang his nurses.
Regular Callers
Edit
Phantom's Finger Guy - "Well, Good Morning Mr. Geronimo!" Frequent caller, often provides relevant background to the topic at-hand before attempting to declare his desire to stick his finger in Phantom's butthole. This attempt is always deflected by Doni's disconnecting the call. Phantom reports that his son Kyle loves the PFG, and has requested that PFG make his calls before 8:00 am so Kyle can hear them.
High-Pitched Singing Guy - AKA, "Terry".  His melodious falsetto contributes to the show with relevant song, praising our Most Glorious Leader with hymns worthy of Radio Gods. 
The "You Suck" Guy - left-handed relief pitcher
Bi-polar Mary - sister of local radio chick Christina Mendonsa. Was once brought in-studio to get a bikini wax. Subsequently laid a huge fart that cleared the room. Has a son. (currently dead to Doni)
Naked Lady Di - according to Doni, has "frosted-flake feet". Possibly Confirmed dead.  RIP in Peace (currently dead)
(inactive) I'm Not A Tuna Guy
(inactive) Ronald Reagan Guy - this caller had a variety of character voices, including Family Guy's Chris. His Reagan calls ended with a fart machine sound effect notable for having an audible tail.
(inactive) Christopher Walken Guy - credited with popularizing "Bulu" as a rallying cry for the Show.  Was probably an afternoon listener, as he has not made an appearance on the morning show.