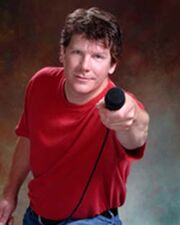 Joseph Ardinger was the board-op for
The Don Geronimo Show
. He was also the phonescreener for Doni's old shown in Washington, DC--
The Don and Mike Show
.
Ardinger was known as "The World's Oldest Phone Screener" during his stint on The Don and Mike Show. Whether this was actually the case is unverified.
He is best-known for his Friday-centric catchphrase "THE WEEKEND'S HERE, HAVE A CAN OF BEER!"
Personal Life
Edit
Ardinger was married to Tracy Baby. They divorced prior to his moving to Sacramento for the new show.
Joe raised a lobster from birth. He named him Buck and they were to be life long friends. Until Joe boiled him alive and ate his corpse.
Hobbies and Interests
Edit
In his free time, Ardinger spends time relieving pressure on his dog's anal glands. He is very fond of animals