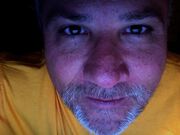 Don Geronimo is the stage name of Michael Sorce, a former Top 40 disc jockey and talk show host who currently hosts
The Don Geronimo Show
in Saramento, CA.
Doni was on a fuckton of radio stations, but the only real ones that matter for all intents and purposes of Sacramento are WJFK and KHTK.
He was the host of the longtime Sacramento favorite Don and Mike Show before retiring in 2008. He eventually came to his senses and made his triumphant return to Sacramento airwaves in June of 2010. He was also on TV locally on Good Day Sacramento, but had to leave when The Don Geronimo Show moved to mornings.
Notable Feuds
Edit
Doni vs. Rube, M.R.-nie, and Dumb

(I can't fucking believe I forgot about this one. Fuck my shit.)

Don and Mike vs. Howard Stern
Doni vs. Aaron the Engineer
Doni vs. Tom Couzens
Doni vs. gravity and concrete at Cal Expo
Doni vs. his innate desire to reach through phone and kill listeners
Doni's juicy farts vs. his unstained underwear
Doni vs. Not Crying at that one scene in Robocop 2
Doni vs. Steve "Cottingim" Porche
Notable Sexual Conquests
Edit
His 10th grade english teacher
Pat Benatar
A midget
Wife #1
Wife #2
Janet
His teddy
Robb Spiewak
Palmela Handerson
His left hand
Personal Life
Edit
He lives in Elk Grove, right around the corner from the Chevron. He is married to his wife Janet and has a couple of dogs named Oscar and Butters.
He has one son Bart from his marriage to Freda Wright-Sorce.
He has a daughter Amy from his first marriage. She lives in the Twin Cities and had her old matress auctioned off on the old Don and Mike Show. I bet she's hot.
He likes the Green Bay Packers and would probably let Aaron Rodgers complete on his face if it meant the Packers would win another Super Bowl.
His cigar of choice is the Arturo Fuente - Fuente Opus X.
(OK, seriously you faggots, don't go posting his personal information here because that really backfired for some retards back east after Freda died. If you can't wrap your brains around that, go Kill Yourself.)
Links to some Doni shit
Edit